Introducing the Beco Onsen XL: A Journey of 10,000 Puffs to Unparalleled Vaping Bliss! 🔥
Embark on a sublime vaping journey with the Beco Onsen XL, your next-gen companion that promises a staggering 10,000 puffs of pure, unadulterated joy. Designed with precision and crafted to perfection, the Beco Onsen XL is not just a vape; it's an experience, a lifestyle, a statement.
🌬️ Savor the Essence of True Flavor 🌬️
With the Beco Onsen XL, every puff is a celebration of rich, robust flavors that tantalize your taste buds and leave a lingering essence of satisfaction. Dive into a world where each draw is smoother, each cloud denser, and each flavor more vibrant than ever before.
🔋 Power-Packed Performance 🔋
Boasting a robust battery life, the Beco Onsen XL ensures that your vaping sessions are uninterrupted, delivering consistent and powerful draws from the first puff to the 10,000th. The longevity and durability of this device stand unparalleled in the vaping universe.
🎨 Elegance Meets Ergonomics 🎨
The sleek, compact design of the Beco Onsen XL is a testament to the seamless amalgamation of elegance and ergonomics. Its slender form factor is not only aesthetically pleasing but also incredibly portable and comfortable to hold.
🍇 A Palette of Flavors 🍇
Explore a spectrum of flavors, each meticulously crafted to deliver a unique vaping experience. From the sweet, luscious notes of exotic fruits to the cool, refreshing whispers of menthol, the Beco Onsen XL is your ticket to explore a universe of flavors.
🛡️ Safety First, Vaping Next 🛡️
Committed to your well-being, the Beco Onsen XL is engineered with top-tier safety features ensuring every puff is not just delightful but also secure. Relish the peace of mind that comes with a device that prioritizes your safety.
🌿 Eco-Friendly Choice 🌿
In our pursuit of excellence, we ensure our processes and products are eco-friendly. The Beco Onsen XL is a testament to sustainable vaping, ensuring you enjoy every puff with a clear conscience.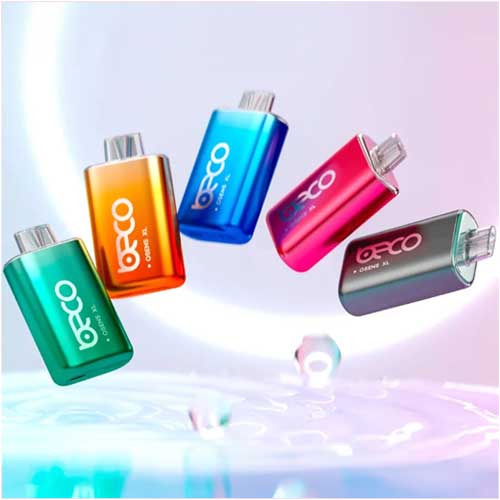 Explore the Pinnacle of Vaping with Beco Onsen XL: A Detailed Look into Its Superior Features
🔋 Mighty 800mAh Battery:

Experience the longevity of an 800mAh rechargeable battery, ensuring your vaping sessions are extensive and uninterrupted. The Beco Onsen XL is synonymous with enduring power and consistent performance, providing a seamless journey from the first to the 10,000th puff.

💧 Generous 18ml Liquid Capacity:

Dive into a vast ocean of flavors with an impressive 18ml liquid capacity. The Beco Onsen XL invites you to savor every draw, unlocking a world where each puff is a new adventure, and every flavor note is a discovery.

💨 Monumental 10,000 Puff Count:

Embark on an epic voyage with a remarkable 10,000 puff count, ensuring that your vaping experience is not just memorable but also incredibly long-lasting. The Beco Onsen XL is your steadfast companion in this flavorful journey, standing by you puff after puff.

🚭 Potent 50mg Nicotine Strength:

Engage in a rich and robust vaping experience with a potent 50mg (5%) nicotine strength. The Beco Onsen XL delivers a satisfying throat hit with every draw, striking the perfect balance between pleasure and potency.

⚡ Optimal 1-ohm Resistance:

Enjoy the harmony of a 1-ohm resistance, ensuring that every draw is smooth, every cloud is dense, and every flavor is pronounced. The Beco Onsen XL guarantees a sublime balance, optimizing your vaping experience to perfection.

📏 Compact Dimensions (81.8x45x22.9 mm):

Revel in the sleek and compact design of the Beco Onsen XL, boasting dimensions of 81.8x45x22.9 mm. It's not just a device; it's a statement of style, fitting seamlessly into your lifestyle and pocket.

🌀 Innovative Mesh Coil Technology:

Experience the cutting-edge mesh coil technology, ensuring that every draw is saturated with flavor, and every puff is a new peak in your vaping journey. The Beco Onsen XL is a testament to innovation, delivering unparalleled flavor fidelity.

👄 Effortless Draw Activation:

Enjoy the simplicity and efficiency of draw-activated firing, ensuring your vaping experience is smooth, straightforward, and utterly enjoyable. The Beco Onsen XL is your effortless gateway to a world of flavors, where every draw is a step into the extraordinary.