Introducing the PYNE POD 8500:
The Ultimate Vaping Powerhouse. Dive into an unparalleled vaping journey with this sleek device, designed for both aesthetics and performance. Revel in the richness of flavors, amplified by its innovative boost mode, ensuring every puff is a cloud-filled delight. The vibrant display not only adds a touch of elegance but also keeps you informed about liquid and battery statuses. And with a rapid 30-minute charging feature, PYNE POD 8500 ensures you're always ready for the next session. Elevate your vaping experience; choose PYNE POD 8500.
| Feature | Description |
| --- | --- |
| Mode | Boost mode for enhanced flavor and increased vapor production. |
| Design & Display | Sleek, eye-catching design with a vibrant display indicating Liquid and Battery levels. |
| Charging | Rapid 30-minute charging port for quick power-ups. |
| Puff Capacity | Ranges from 6000 to 8500 puffs per device, contingent on Wattage level. |
| Battery | Comes with a robust 550mAh Integrated Battery for prolonged usage. |
| Nicotine Content | Contains 50MG (5.0%) Nicotine by Volume for a consistent and satisfying experience. |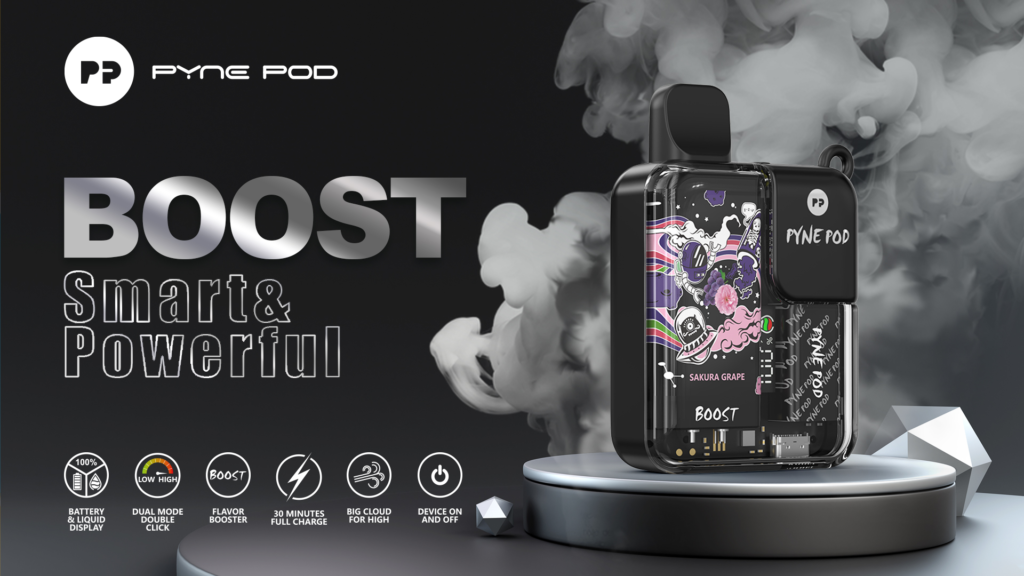 PYNE POD 8500: Comprehensive Guide to Button Functions & Features
Dive deep into the intuitive functionalities of the PYNE POD 8500, a vaping device that seamlessly marries innovation with user-friendliness. Here's a breakdown of its button operations to enhance your vaping journey:
Quick Status Check: A single click is all it takes. Instantly view your device's status, from Voltage level to the remaining Battery & Liquid volume. Stay informed, stay ahead.
Voltage Customization: Double-tap your way to vaping perfection. Switch between voltage levels with ease: a Green light indicates low wattage, while a Red light signals high wattage. Tailor your experience to your preference.
Power Control: Simplicity at its best. A mere 3-second press and hold powers your device ON or OFF. Quick, efficient, and hassle-free.
With the PYNE POD 8500, every feature is designed with the user in mind, ensuring an unparalleled vaping experience. Get to know your device, and vape like a pro.
Pyne Pod 8500 Puffs Flavors
Colombian Coffee
Strawberry Watermelon
Cool Mint
Fizzy Cherry
Blueberry Cotton Candy
Watermelon Bubblegum
Sakura Grape
Blueberry Raspberry
Lemon Lime
Kiwi Passion Fruit Guava
Tobacco
Mango Passion Fruit